Alex Mirutziu - "Around the Truth is the Truth"
Text by Diana Weis
2018
Romanian artist Alex Mirutziu explores the fringes of what can be seen or represented. His lightly rendered strokes, referred to as "homeless lines" by the artist, approach the portrayed objects without ever keenly contouring them.
This intended vagueness, leaving room for inconclusiveness, misunderstandings or the indefinable, is also palpable in the artists' installations and performances. Mirutzius work surveys the periphery of things and inquires the possibilities of intervention into a fixed order.
Like many artists of his generation growing up in the former eastern bloc, Mirutziu names the wishfully observed culture of the west as an important reference point to his practice. Yet his escape route from limitations of a post totalitarian Romania wasn't shaped by the pop cultural iconography that we soften see imprinted in contemporary visual aesthetics, but rather radical poetic and philosophical ideas.
Mirutzius interventions, inscribing bodies, overpainting photographs or installing objects resembling rearview mirrors, often feel crude, direct and brutal. They expose the relationship between concrete reality and subjective actuality as deceptive and constructed. Truth, as reflected in the title of this solo exhibition, is not understood as a moral or absolute category but as an empty center within a complex system of ascriptions, presumptions and fictionalizations.
In his piece "The urgency of the idea of closure in drawing" Mirutziu will perform alongside his younger self, symbolized by a graphite mask, on the opening night. The project The Artist as Himself at 29 (TAH 29) focusses on the instability of self-narrations and the inevitable distortion of past events
Studio International
'I'm interested in error, misunderstanding, correction'
An interview by Izabella Scott
26.06.2018
The Romanian artist talks about his latest exhibition, examining the life and work of Iris Murdoch, and discusses the biomechanics of writing, necrophilia and the novelist's teddy bear.
Alex Mirutziu (b1981, Romania) is a sculptor, poet and performance artist. In his first solo exhibition in the UK, Between Too Soon and Too Late, shown at the Delfina Foundation in London, he examined the life and work of the writer Iris Murdoch (1919-99). Visiting Murdoch's archive at Kingston University, Mirutziu looked at the work the author made in the final 20 years of her life, when she had Alzheimer's disease. He gave attention to errors, cuts and repetitions found in Murdoch's notebooks, and transposed the markings into sculpture, video work and performance.
I meet Mirutziu on a stormy day in June at the Delfina Foundation. He is a slight man with arctic-blue eyes, in a tailored tweed jacket and DayGlo socks. After suggesting that we sit on the gallery floor, he produces a pair of white cushions from a cupboard and perches among his sculptures. I follow suit and, as lightening flashes outside, we discuss the biomechanics of writing, necrophilia and Iris Murdoch's teddy bear.
Izabella Scott: We are sitting in a corridor of the gallery, taken over by your sculptures. They take the form of scribbles and crossed-out words, made of black wire. Why are you taking broken sentences and making them concrete?
Alex Mirutziu: I'm interested in error, misunderstanding, correction – and all these sculptures show an error of sorts. For some time now, I've been making work around the life of the British writer and philosopher Iris Murdoch. As part of my residency at Delfina Foundation in London, I visited her archive at Kingston University. I've been looking at the last period of her life, when she had Alzheimer's disease, which she was diagnosed with in the 1990s, but which had been brewing for some time before that. Looking at Iris's archive, and particularly the errors and mistakes in her later work, I wanted to take some of the erratum, and reverse the idea of these thing being left out – and instead to put emphasis on them, to make them so big that you can't help but encounter them.
IS: Are these marginalia, or edits she made herself?
AM: They are tiny marks that she made on to her writing. The archive at Kingston includes diaries, poems that haven't been published, 3,000 letters, postcards and a lot of notebooks. Many of these papers were taken from Iris's house in Oxford, and there are some objects, too, such as a teddy bear that Iris is said to have held in her arms when she died. There are also books taken from Iris's house, which have notations in them. Iris was unusual, because she established herself as a philosopher and a novelist in the 60s. The Kingston archive contains philosophical books rather than novels – treatises on logic and ethics – and you can see her markings on the pages.
IS: Often, writers and biographers want to connect with their subject via certain significant objects – and you mentioned Murdoch's teddy bear. For example, the writer Wayne Koestenbaum, who wrote a biography of Andy Warhol, tried on Warhol's corset. Are you looking for some kind of transference – intimacy?
AM: Visiting the archive and seeing Iris's objects was a new experience for me and I felt something that I can only describe as uncanny. Prior to this, I was experiencing what Iris wrote at a distance – in republished books, say, or pdfs. Then I went into the archive. It was overwhelming. You touch something that she has touched. Between the pages, sometimes I would find a hair. Who knows if it's hers? You see the coffee stains, and it's emotional. There is a feeling of being close to her – maybe too close to her – and this was another thing that I felt. Was I interfering too much? Would Iris have wanted this? Going into the archive is a kind of necrophilia, to go where you shouldn't go, and there is always an ethical question that must be grappled with. I have often thought that Iris would not have liked to be seen in this way, for her errors to take centre stage. After all, the back cover of her complete letters [Living on Paper: Letters from Iris Murdoch, 1934-95] has the instruction, "Destroy this and all letters. And keep your mouth shut", which is taken from one of her letters.
IS: Pure objectivity is probably impossible when writing about another life, and in that sense there is always a gap between biographer and subject – there is always a betrayal, no matter how true you might want to be. But in this case, you seem to have a strong inkling that Murdoch would have disliked the focus on her errors, on her Alzheimer's, and on her decline. So why do it?
AM: She was on my mind; I felt connected to her. And because Iris fell between the cracks. I went in carefully – cautiously. My entry point to Iris was her philosophy. I was on a residency in Ireland in 2016, at Cow House Studios. The project was called The Centre for Dying on Stage, and we were looking at artists or creatives who had died on stage. There are numerous cases – a conductor who had a heart attack, for example. I was interested in the theme tangentially, because my work is often concerned with death, addiction, passion, or artists that consume themselves in their lifetime. I was a little anxious during this residency – lonely and disconnected – and I began to think about Iris Murdoch. It was an incubation period for the work to come.
IS: Murdoch became widely known for her novels, and I'm much less familiar with her philosophy. What parts of her thinking do you find so engaging?
AM: Iris theorised the inner life: what happens philosophically within, the intellectual movement inside in your head. She talks of the "tiny space" where meaning stays unspoken, immaterial – and the works in this show try to occupy this tiny space, to prolong the process of establishing meaning. I'm also interested in Iris's concept of "goodness". She wanted to be "good" – but not in a moral sense, but "good" being a way of getting as close to your intentions as possible. To be true to your work. To be faithful to what you beliefs are. To follow it. I found that to be really important to the way I think. But I also read many of her novels, too, which also explore inner life – in this case, the interior worlds of her protagonists, the complexity of the mind. I find her transgressive in the way that she wrote about relationships between men and woman, especially gay relationships. It's very unusual for the 1960s. She often spoke of her writing process, establishing a situation with two or three characters, and then letting the novel develop out of that. She sets the stage and the rules, and then the action happens. In some sense, the characters being to emerge independently, as if they have a will of their own, as if the writer is collaborating with the characters.
IS: Murdoch's first novel, Under the Net (1954) is about language. In the novel, she stages characters who are trying to express themselves, but who get caught in the net of language. Are you thinking of the mental deterioration of Alzheimer's disease in linguistic terms? You seem to want to show Murdoch getting caught up in her own net.
AM: Iris was diagnosed with Alzheimer's in 1995, when she was 76 years old. But she actually had symptoms that dated from more than 25 years earlier. You can read it in her letters: she felt that something wrong. She wrote many times that she felt tired, that writing was hard – and this goes right back to the 1970s. She is at the peak of her career. In 1978, her novel The Sea, The Seawon the Booker Prize – but already she can feel the decline. Looking back, it's obvious that it began early on. This sculpture in front of us, Continue or abandon? (2018), is taken directly from her notebook. In them, she wrote cuts on the left margin, and notations on the right. I pulled out the words that felt significant.
IS: Is there a sense that, retrospectively, you can find meaning where there is none? That your eyes in the future take something else from her past?
AM: Yes – and sometimes it isn't fair. But I think the corrections, errors and inserts that Iris made are very important, if you want to think of her in retrospect. There are poems in her archive that she wrote out over and over again, that she clearly struggled with. I think that through repetition, through correction, you can begin to get a fuller sense of her work. Iris was always attentive, and in both her novels and philosophy she searched for order. When you look at the material from the later part of her life, you can see that she still wanted to make sense, She still wanted to arrive at meaning.
IS: To turn to another work in the show, Gestalt me out (2018), which is a desk and a chair that has one of Murdoch's coffee-stained notebooks on it, is this the desk she wrote at?
AM: It's not her desk – it's mine. I made a cast of the positions in which I sit and write, thinking of the biomechanics of writing and also the surroundings; how the light comes in, where the wrist and elbow sit. Writing is not only on the page, and I wanted to conjure all that surrounds the writer. So, it's a self portrait, and the question I am asking, rhetorically, is: can you remove the writer from his text? Can you get the author out? The answer is: no – never.
IS: Are you always the protagonist of your work?
AM: Yes, I think I have to be. Another ongoing project of mine is titled, The Artist and Himself at 29. I decided to work with myself at 29 years old, to go back to a stage in my life that is no longer present. The age I chose has no particular relevance – it was just a way to go back in time. I made a series of masks cast from my own face at 29 – made first from plaster and graphite. I began to draw with them – like a strange mask-pen – drawing images of my own face.
IS: As with the desk, the mask-pen, you are the primary prism. What does this mean for Murdoch?
AM: I am thinking through her philosophy, the notion of the immaterial, inner life. Choosing the form for an idea is always difficult. I have a flow of ideas – but how to get them out my head? I constantly ask myself: what form? Should I draw it, perform it, write it? In the case of these sculptures, they came to me quickly: to crop the errors, then blow them up, to make them concrete. The rest of the works in the show were more complicated, and some of them depart from Iris entirely. Prepared Poem # 3 (2018), for example, is a poem that unfolds across a slanted magazine stand, each of the words at different sizes, and printed on transparent paper. It is somewhere between language, poetry and sculpture, and you can walk around the object, read it from many angles, find different fragments.
I always go back to the idea of the writer at the desk, the ontological aspect of how you sit, draw, write. Even if the desk I have put in the exhibition is mine, I think about Iris at her desk, too. She wrote with a Parker pen, in longhand. Not any pen, the Parker pen. She was disciplined and she would sit for four hours a day to write letters. This is one reason why there are so many in the archive – she was a prolific letter writer.
IS: In Hilton Als's White Girls (2013), he writes about the way in which, as a black gay man, he tends to identify with, or think through, the position of a white woman. He shows how these very different positions also contain intersections of privilege and oppression. In some ways, White Girls is about over-identification. I wonder: do you see your works about Murdoch containing a kind of over-identification, as you think through the position of a white woman – a white girl?
AM: There is a tendency to get too close, to get immersed. I am a Romanian man; she was a British woman, but it's possible to see her struggles and my struggles. This over-identification – it happened. There is so much projection. I quote her, I remember something that she said – it feels significant. But I see her as a mirror. I come back to me, through her.
IS: Do you think about your archive? Who will look at it?
AM: I would be very careful about what I show, and I would try to impose a kind of control. I wouldn't want to show sketches that are not finished, for example, nor would I want to show my notebooks. I will burn them all, if I can.
Central and Eastern European London Review
European ArtEast and Delfina Foundation present: Alex Mirutziu 'Between too soon and too late' – 'a window that could take one closer to the essence of things'
Camelia Ciobanu
05.05.2018
With distractions pulling us in all directions, Alex Mirutziu wants to stop us in our tracks. He's done this on many occasions, not least with his video Tears are precious, which received the Best Independent Artist Award at the Optica International Video Art festival in 2008. Between too soon and too late, Mirutziu's first solo show in the UK, is an invitation to go where not many have gone before, in a particular time and place. Inspired by Iris Murdoch's philosophical work, Mirutziu identifies an 'in between' dimension, a window that could take one closer to the essence of things. Murdoch's philosophy articulates meaning though physical experience, the way we perceive and relate to our immediate environment. An affinity with her approach provides Mirutziu not only with a philosophical frame but also with 'a mirror' that allows for thorough exploration. Between too soon and too late translates Murdoch's theories into objects, words and body language. They're the dividing line between time and space as mediators of meaning. With the belief that meaning is dependent on time and space, Mirutziu strategically fills the gallery space, challenging the visitors' expectations. His complex practice proposes drawing, photography, video and installation as different ways of accessing an 'intermedial' time and a place that's so often withheld from us.
Gestalt me out, is a play on presence and absence, a kind of monument to what was and could still be. A desk and a Xerox copy of Murdoch's tea stained note… golden indentations of the author's arms in the desk … an empty chair. The individual objects testify to an absence, their synergy suggests presence. Gestalt me out, hints at a myriad of interactions that produce meaning. In order to experience this interconnectedness, the viewer's asked to step into the 'in-between place'– 'a tiny place, that one has to enlarge and sit on it…until it hurts', says Mirutziu.
The works in the show are performative. They require the viewer's engagement and don't yield themselves to easy consumption. Mirutziu studied Iris Murdoch's archive of late writings, after the philosopher's onset of Alzheimers. He found that what she almost said could potentially be more meaningful than what she did say. One of the installations of the show's a narrow space filled with blown up crossed out words, cast in metal. The visitors have to battle with these words that block their way through the exhibition space. There's no other way but to face them, make out what they could mean or accept their titillating mystery. Either way, one's almost trapped in their inescapable materiality. The artist's aim is to expose their weakness. They're only one piece of the puzzle, 'half spoken': their crossings hide but also reveal. For Mirutziu, a clinical understanding is far from his goal. He accepts the possibility of not grasping their meaning– in fact, he embraces it. He wants to revel in it, to make it secondary to the physical experience of being, of slowing meaning in its tracks and having it at arm's length and a little bit further.
A framed page with a title 'Where is the poem?' demands a contribution: our own personal poem, there and then, in the exhibition space; an arrested moment that will 'destabilize' our daily routine, make us think, react and churn out poetry.
Poetry's the driving force throughout the show. Drawings with wonderful titles (Heavy X looks at thick slow on blue thick blue) are visual labyrinths that aren't meant to be solved. They engage us in a Sisyphean action of making a narrative, only to be pulled back into anunfathomable maze of possibilities. It's the exercise that matters and the exaltation that comes from refusing to accept defeat. Mirutziu expects us 'to put in the effort, to be as close as they can to the work and fill it up with meaning'. In exchange, he offers us the chance to get closer to ourselves than we were when entering the gallery. It's an offer we shouldn't refuse.
Alex Mirutziu lives and works in Cluj. His exhibition's the result of a residency at Delfina Foundation, supported by European ArtEast Foundation. It's on show until 2 June 2018.
Camelia Ciobanu
Camelia Ciobanu is an Art Historian, with an MA in Art History and Photography from Birbeck College, University of London. Her interests are Being, Observing and writing about either of them. She lives in London.
"Between Too Soon and Too Late"
Alex Mirutziu discuss his current exhibition "Between Too Soon and Too Late" curated by Aaron Cezar at Delfina Foundation, co-presented with European Art East Foundation
2018
Alex Mirutziu in conversation with Aaron Cezar
2018
On the occasion of his exhibition Between Too Soon and Too Late at Delfina Foundation, London, Alex Mirutziu (b. 1981, Romania) speaks to Delfina Foundation Director, Aaron Cezar.
"I attempt to suspend viewers in [Iris Murdoch's notion of] 'tiny space', which requires a certain level of commitment in order to arrive at meaning."
Aaron Cezar: Throughout your career, poetry, philosophy and literature have strongly influenced your artistic practice. How do you relate to words versus images?
Alex Mirutziu: For me, words are more powerful than images. The image is always in the word.
I am interested in how words conspire to bring forward meaning in relation to other words or body language. I feel intimately close to the poetry of Graham Foust and W.H. Auden. In Where is the poem(2013-), I bring these two poets together in the prospect of establishing meaning by destabilising each other. Foust highjacks Auden and vice versa. Auden's texts are footnotes to Foust, which are performed by one hand and graphite powder. The hand gestures are an attempt to get into the text, to then try to overcome it – a movement that makes the poem vulnerable in my opinion.
This strategy is also part of the performance-video Dignity to the unsaid (2017), where the actors punctuate their choreography with instructions for the public in the form of notes. By doing that, they create a subtle movement between the presence and absence.
AC: What drew you to the work of writer and philosopher Iris Murdoch?
AM: I was aware of Iris Murdoch's oeuvre for a long time before I decided to look deeper into her philosophical work. As an artist, I am particularly interested in her thoughts on how it takes courage to destroy what one thinks is not good in one's work and the omnipresent temptation to be good, philosophically speaking [which by her moral philosophy definition would mean the opposite of expression and projection of the ego].
During my residency at Delfina Foundation, I visited Murdoch's archives at Kingston University. Rather than focus on the period of her career when she was the most prolific, I looked at material that she produced later in life when signs of Alzheimer's Disease were noticeable. Much of her work from this period is unfinished and littered with corrections and unformed thoughts.
AC: Can you expand on the title of the show, which is inspired by Murdoch's concept of approximation, where one locates or loses meaning?
AM: The exhibition's title is a quote by Murdoch that discusses the problem of form and time, loss of form, perfect timing and bad timing, in relation to the production and reception of creative works.
In the exhibition, I try to configure what is between 'too soon' and 'too late', which Murdoch defined as a 'tiny space' which one has to enlarge. She implies that one should prolong the experience of this space, to sit on difficult questions, and resist the temptation to quickly move from the provisional to the finished thing. In the exhibition, I attempt to suspend viewers in this tiny space, which requires a certain level of commitment in order to arrive at meaning.
AC: How did you try to make sense of Murdoch's archival material through some of the works in the exhibition?
AM: Heavy X looks at thick slow on blue thick blue(2018) and White rocks up, pink went out to distant ships (2018), I attempted to give a form to Murdoch's incomplete descriptions and erratic metaphors about the sky and natural landscape. The title of the works are the descriptions that inspire the drawings.
The series of works entitled To continue or abandon(2018) are large metal sculptures of hand corrections or scribbles that Murdoch made while working on poems and lectures. These sculptures physically place the audience within Murdoch's thoughts without any context.
While in Gestalt me out (2018), I wanted to put forward the idea that the author is always included in the inscription of what he/she is inscribing, that there is no way out. The desk includes impressions of my hands and elbow and an image of Murdoch's tea-stained notebook.
In the video The best I can do at the moment (2018), which can only be viewed through a QR code, I use the format of promotional trailer to sum up, and perhaps even, destabilise the exhibition through humour and happenings in my studio. I go about half routines in the studio and in the meantime reflect on my own instability and intellectual 'muddle'.
AC: What is the role of time – or more precisely, timing – and space in the context of the exhibition?
AM: They play a crucial role. For example, Prepared Poem #3 (2018), a sculpture layered by transparent slides with lines from one of my own poems, requires visitors to move around the space in order to read the work. However, any attempt towards a perfect reading results in failure. It is, therefore, up to each viewer to make sense of the poem from their own perspective in their own time.
AC: Can you talk about the nature of performativity in your works?
AM: Generally, my works are performative in the sense that they allow viewers the freedom to adapt and complete the work, physically or metaphorically such as Prepared Poem #3.
Because my works touch on 'what' and 'how' something is held together (not 'why'), I am interested in ways to approach, find or loose meaning. One must not forget that even stasis is an action, moreover the outcome of a decision. My intention is to slow down the viewer, to challenge one's presence.
I am also interested in the sort of commitment that comes from doing by being, not the other way around. For example, I am making a new performance for Block Universe 2018 entitled Doing Sub Thinkingthat addresses this. Referencing philosophical thought, national displays of power and collective agency, the work seeks to illustrate the performative forces at play in society. We are exploring the de-personalisation of an individual within a crowd to reveal the intangible gaps between thought and action within group dynamics.
Arta Magazine
"Dignity to the Unsaid"
Flora Gado
April 24, 2018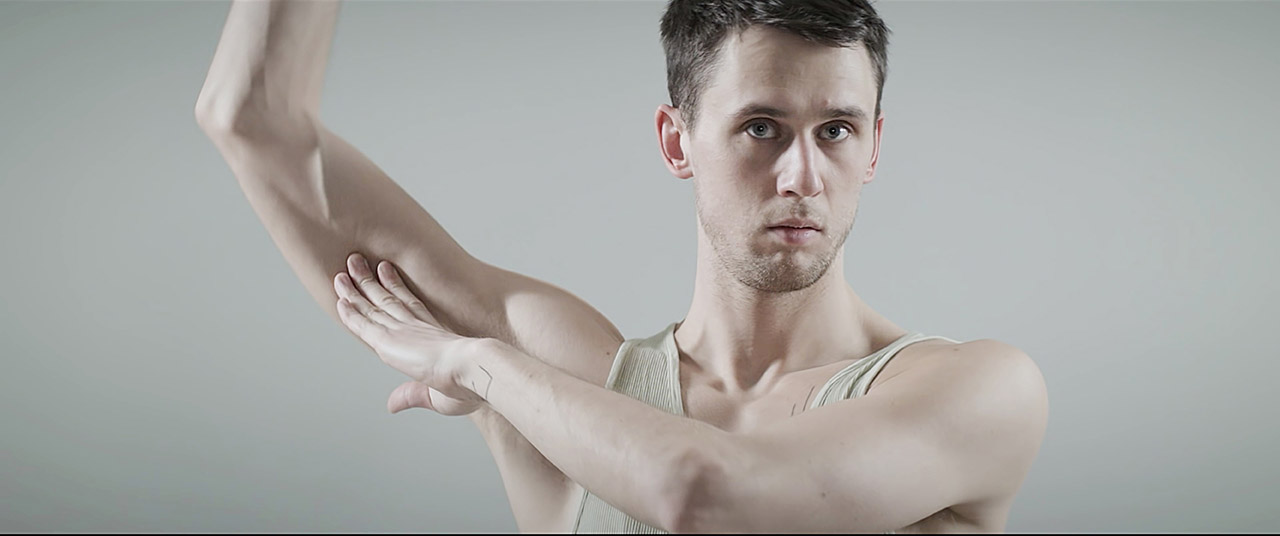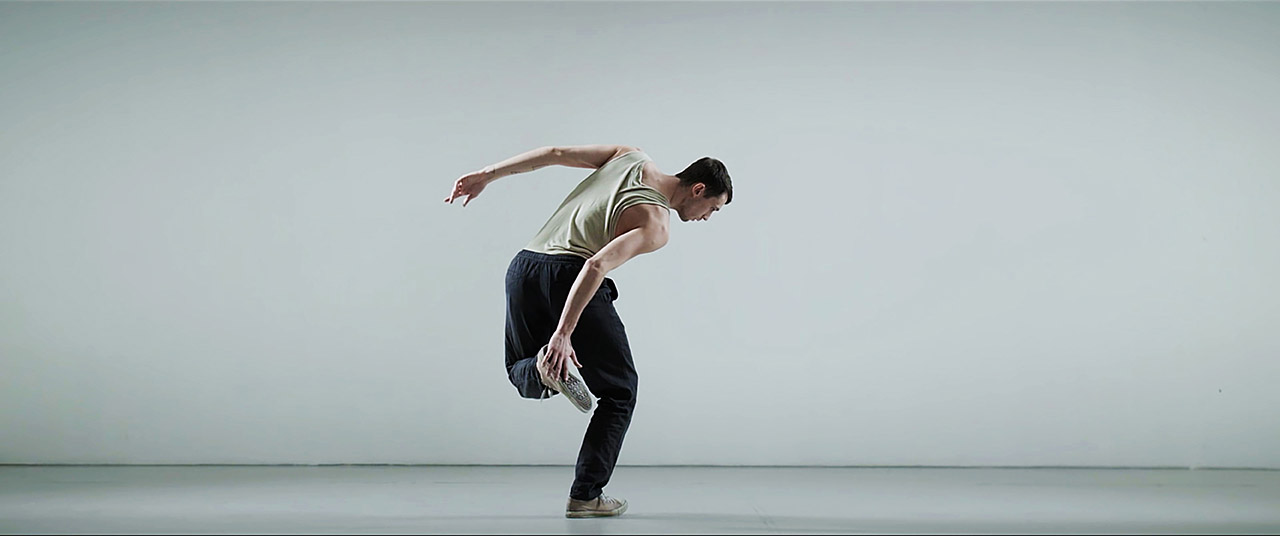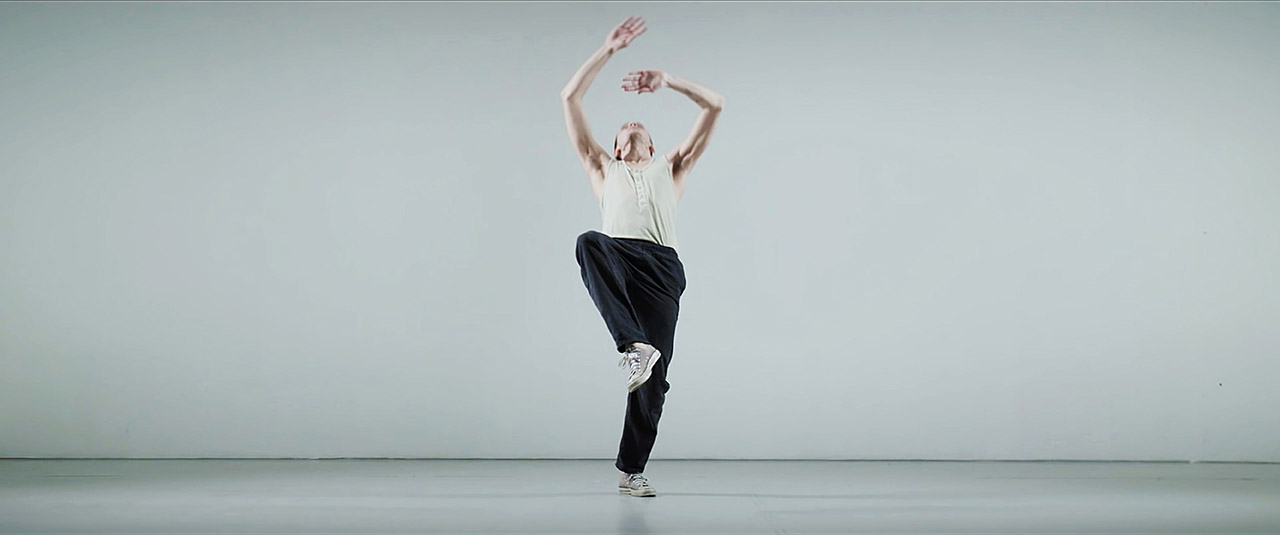 I said he was trying to play the ruthless male, not to mention the fascist, just a little too transparently.
I was being sentimental, he said.
Maybe, I said, but I couldn't express myself properly in this rotten language.
He'd do the expressing for me.
Please, stop acting silly.
Is that what he was doing? he asked.
He could go on acting silly, if he liked.
Did I still know what we were talking about?
Did he?
Péter Nádas: A Book of Memories, Jonathan Cape, London, 1997, 222-223
Prologue
After visiting his solo exhibition in MNAC Bucharest, I met Alex Mirutziu in Cluj-Napoca in his studio at Centrul de Interes in October 2017. He showed me the short film of his latest performance Dignity to the Unsaid, which is, and at the same time is not an homage to the English author and philosopher Iris Murdoch. The video reminded me of the oeuvre of the well-known Hungarian author, Péter Nádas and especially his novel from 1987, A Book of Memories. Nádas examines our emotional states, mindsets, feelings and anxieties with an extraordinary accuracy and sensitivity. He emphasizes and transforms into literature the constant approach to understand what cannot be understood, the irrational, the unsaid as well as an unexplainable mystery of human existence: how can something which didn't even happen, affect our life in a strange way. These are also the fluid territories that are – in my opinion – the most interesting questions in Mirutziu's work.
Since his early works, Alex Mirutziu challenges the notion of meaning, representation and language. He examines the often invisible power structures and dynamics which are connected to the different modes of expressing ourselves. In his performances and videos the body and its gestures function as a platform where those things could be expressed which otherwise (e.g. through language) are not possible. It would be however a misunderstanding to say that language and ratio are opposed to the free bodily expressions in his work; Mirutziu concentrates much more on the relationship between these two terrains and the shifts, passages, collisions and dynamics between verbal and body language, written and oral tradition, finding and losing meaning.
When we are trying to express ourselves, we constantly reveal our incapability of total accuracy – this happens through errors, mistakes, stammered words that appear also in our body movements, gestures. Mixing the different ways through which we communicate and navigate in the world, Mirutziu highlights those talemonger signs – errors, collisions, fragments and confusions – that are impossible to hide, as well as "ordinary" gestures. We hide ourselves behind the construct of language and "appropriate" behavior as well as bodily gestures, but through sudden ruptures, fragments and failures those things that we try to hide often appear. For a better understanding of gestures and movements in Mirutziu's works, an essay of Giorgio Agamben would serve as a good example. Agamben quotes in Notes on Gesture, Marcus Terentius Varro, ancient Roman poet and philosopher, who differentiated gestures as a third type of action, distinguishing it from acting (agere) and from making (facere). Agamben summarizes the paradoxicality of gestures in an interesting way: "What characterizes gesture is that in it nothing is being produced or acted but rather something is being endured and supported. (…) The gesture is, in this sense, communication of a communicability. It has precisely nothing to say because what it shows is the being-in-language of human beings as pure mediality. However, because being-in-language is not something that could be said in sentences, the gesture is essentially always a gesture of not being able to figure something out in language (…)." [i] In Mirutziu's performances we can witness this specific terrain of different levels of communication.
Language and typography as a compass
In his early works Mirutziu experimented with performative-subversive ways of playing with gender roles and stereotypes. These powerful performances (like Feeding the Horses of All Heroes, 2010) already addressed critically the expression of identity through different symbolic structures, what effects global industries and market economy have on our life etc. In his most recent works a shift could be detected: firstly, he stopped "using" his own body and started to delegate his performances. Secondly, from this quite personal starting point he began to focus on questions about the politics of reading and writing and how we constantly reconfigure ourselves through language. What kind of order and security could language give and how do we navigate in it?
Before analyzing more thoroughly one of the artist's latest pieces, Dignity to the Unsaid, it is important to mention some of his previous works, in which he focuses more concretely on the notion of design and typography. The artist examines these territories through their relationship with the "user" and tries to highlight the invisible mechanisms, power relations inherent in them. The performance documentation The Finnish Method (2015) focuses on how design – especially the famous Scandinavian one – creates a sense of security as well as functionality, which helps us to find "our place" in the world. Taking the brand Martela as an example, which is known as creator of the "best working environments", The Finnish Method criticizes in a sense this secure functionality. In the video one can see the artist – at first only his legs, later his hands – as he follows carefully a set of instructions, a step-by-step manual, which seems to illustrate the most effective way to function within this working environment. The ironical performance is in contrast with the act of working itself – instead of doing his "job", the artist only repeats these movements. The performance raises the question: can these design elements really help us to function better in the world or are these only substitutes for realizing to what extent we are depended on our environment and on outside factors? If every step is regulated, designed, how can we move freely?
The notion of different structures, systems etc. is also important in those performances that put typography, poetry and their translation into dance in focus.[ii] But as a document (2015), which the artist made during his residency in IASPIS – The Swedish Arts Grants Committee, Stockholm, at first looks like an "average" dance piece. However, the work has many layers that open up a complex network of meanings. As I have mentioned earlier, Mirutziu is interested in the politics of reading and writing. More closely he examines how our body takes part in the process of reading (how it is not limited to the mind and the eye), how typography (as an aspect of design) helps us to navigate easier in the world and understand it better. Mirutziu suggests that the fields of poetry and dance, typography and gesture are not so far from each other, as every letter, text, language has its own rhythm, inner logic and basic movement.
For But as a document the artist used the typeface Sweden Sans (created by Söderhavet agency) and transformed its fonts into movements, gestures – thus creating a special kind of choreography. Sweden Sans is not chosen randomly: it is part of the new, national branding of Sweden and according to the designers, this typeface is considered to be the best to represent the country. This way Mirutziu also emphasizes the power relations behind such "casual", everyday things as fonts and typography. Within the performance, each letter was given a specific set of movements (these instructions were also on display in MNAC Bucharest) and on the video we can see the dancer Pär Andersson performing. What shaped these movements were the movement of the eyes (how your eyes move from left to right while reading) as well as the dynamics of reading (slow, fast etc.) and most importantly as the artist summarizes it: "how we read with our entire body." As the exhibition text concluded, Mirutziu "transferred from plain page to plain space" the typeface, producing a "live reading" of poems by contemporary Swedish and American poets, Karl Larsson and Graham Foust.[iii]
But (how) do we understand these poems? They appear in a very different sense than reading in a book – we have to decode it while watching the performance / choreography and because of this, the meaning transforms: it becomes fragmented, destabilized, momentary. The moment we grasp it, it disappears. According to my interpretation Mirutziu's goal was precisely for the viewer not to "understand" the poem through a traditional way – while emphasizing the rhythm and movement in the fonts as well as how eyes are moving while reading – he speaks about a different kind of meaning, understanding, communicating. Yet if we get the fragmented lines: "let your animal mind prevail / and become not as a cage / but as a document", an enigmatic sentence appears.
This piece also reminds me of the work by Ula Sickle (Canadian artist with Polish origins), which was recently presented in U-jazdowski Castle Center for Contemporary Art, Warsaw. In the choreographic exhibition Free Gestures (2018) the performers reflected on five short stories, written by contemporary authors about the topic how ideologies become incorporated in our bodies, what is the relationship between everyday gestures and the terrain of politics, activism etc. We can't understand or put together each story, but we listen to fragments, look at different kinds of constellation of movements, interactions, relations between the performers. Sometimes we notice as a dancer imitates how we scroll on our smartphones or use a touch screen, other occasions we can listen to a monologue in various ways, about punching someone in the face. The audience can participate yet it is clear that their participation won't change the choreography, which also many times seems to be improvised. The relationship between literature and choreography, gaining and losing meaning, translating words to movements and understanding the different aspects of bodily gestures is what connects the two artists.
Should we talk about what we cannot say?
In one his new works, Dignity to the Unsaid (2017) Mirutziu moves to even more poetical and abstract terrains, to examine the notions of meaning, understanding, memory and forgetting. He abandons the typographical starting point yet still focuses on another figure from literature: the English author and philosopher Iris Murdoch. Both on her oeuvre (which for example in Hungary is not very well-known) as well as how she suffered in her late years from Alzheimer's disease. Mirutziu is interested in the question: how someone whose primary mode of expression is through writing/speaking deals with the process of fading memory and how this becomes manifest in her public speeches, interviews (and how she reflects on it). As curator, art historian Eugenio Viola summarized, for Mirutziu "Murdoch becomes an occasion or pretext to construct a story that deals with his recurrent themes: otherness, marginalization, exclusion." Yet from the works a deep understanding and solidarity towards Murdoch becomes visible, as the artist not only uses her as a starting point but through this, tries to deal with often unsaid, repressed notions. That is why Dignity to the Unsaid becomes one of this strongest works, a performance where the emphasis is on such uncanny questions as how to say things which couldn't be said, how do we constantly fail in communicating with each other, how despite the fact that language always fails us, we try to hide behind it. The three "word workers" (as the artist calls them) in the performance brings into notion those fractures, errors, mistakes when these notions of "normality" or expressing ourselves properly shatter.
In the enigmatic, fragmented yet perfectly shot video we can see three performers who are walking/dancing in an abandoned building, sometimes talking to each other or to themselves. The texts we can hear are poems, written by Mirutziu inspired by the English author, except the one in the elevator scene, which is constructed form an interview with Murdoch. The symptoms of Alzheimer's disease – confusion, the inability to associate words and concepts – become visible in a subtle way through fragmented gestures, accents, stammering, repetitive movements and the tangling narrative which won't make a coherent story. Again the essay by Agamben is worth mentioning here, as what he writes about the Tourette syndrome and explains the situation when "catastrophe of the sphere of gestures" arrives. As the philosopher concludes: "patients can neither start nor complete the simplest gestures. If they are able to start a movement, this is interrupted and broken up by shocks lacking any coordination and by tremors that give the impression that the whole musculature is engaged in a dance (chorea) that is completely independent of any ambulatory end."[iv] The movements of the performers could also remind the viewer about this "catastrophe of the sphere of gestures", and Agamben's sensitive comparison between these specific bodily movements and dance is also worth underlining.
The fragmented story parts are telling about sensitive observations and poetic reflections about the day, light, and also about the mind, which again connects Mirutziu's interest not only to the psychological/emotional aspect, but to the cognitive processes and the "scientific" explanation about what happens when we lose our memories. One of the strongest parts of the film is the scene that takes place in the constantly moving elevator while a red light is shining. In this scene two performers out of three are always "silent" – or as their post-it says: they will be back in x seconds – while the third one is speaking. These are the most coherent parts of the narrative which could be understood as interpretations of the interviews conducted with Murdoch, where the gestures, repetitions are exaggerated in a strange way (as mentioned above). Here the topics are becoming more concrete: the performers speak about dogmas, beliefs, also about language and the fragmentation of the self ("one part of you disapproves to another part of you.") – thus they seem to appear as three versions of one person.
In the last, powerful scene the performers are marking a starting line. They get into the position, commence the preparation, but they just keep repeating this movement without actually running. This hesitant movement and the delay itself summarizes perfectly that kind of constant incertitude, doubtfulness which characterizes our life in the current moment: whether about deciding on taking a new job, leaving the country or getting into a relationship with someone. The performers yet suggest that there is a way to escape this "blocked" state, stop postponing the start and step out.
Epilogue
As I have already mentioned, the performance reminded me of Péter Nádas's novel The Book of Memories and especially the storyline set in East-Germany in the 70's: a sudden yet deep and disturbing love story between a Hungarian and a German man. The narrator describes their first encounter and the weeks that followed, where time disappeared and only the two people mattered. Even though it is one of the most beautiful romances in literature in my opinion, it also tells a lot about communication, understanding and the constant failure to get to know someone truly. Thus I would like to end my essay with a paragraph that is about how two people communicate with each other through language, which is always, essentially, through the body as well.
"We talked, as I say, though it would be more correct to say that we told each other stories, and even that would not be an accurate description of the feverish urging to relate and the eager curiosity to listen to each other's words with which we tried to complement the contact of our bodies, our constant physical presence in each other, with signs beyond the physical, with the music of spoken sound, with intelligible words, and at the same time to use words to envelop, to obscure the physical relationship; we soliloquized, we gabbed, we inundated each other with words, and inasmuch as speech has a sensual, physical significance in the meaning, we used it to enhance our physical closeness, knowing well that words could only allude to the mind, to what's beyond the body, for words may be genuine but they can never tell the full story; we kept gabbing away – interminably, insatiably, in the hope that with our chaotic stories we would draw each other into the story of our own bodies (…)."[v]
THE TEXT WAS WRITTEN AS PART OF FLORA'S RESIDENCY IN CLUJ AND BUCHAREST IN 2017, PART OF THE PROJECT EAST ART MAGS. CO-FUNDED BY AFCN. WITH THE SUPPORT OF THE HUNGARIAN INSTITUTE IN BUCHAREST.
[i] Giorgo Agamben: Notes on Gesture in: Means Without End: Notes on Politics, University of Minnesota Press, Minneapolis-London, 2000, 57-59.
[ii] See also the performance: Stay(s) against cofusion, http://www.alexmirutziu.com/performance-documentation/.
[iii] When Andersson performs a letter, that specific letter is written below on the screen in the video work.
[iv] Giorgo Agamben: Notes on Gesture in: Means Without End: Notes on Politics, University of Minnesota Press, Minneapolis-London, 2000, 51.
[v] Péter Nádas: A Book of Memories, Jonathan Cape, London, 1997, 205-206.
Flóra Gadó (b. 1989) is a freelance curator, art critic and Ph.D. student. She graduated in 2015 from Eötvös Loránd University with an MA in Art Theory. Currently, she is enrolled in the faculty's Ph.D. program in Film, Media and Cultural Theory. She curated several exhibitions for example in the Studio Gallery (Mindsets, Ongoing Histories), 2B Gallery (Lilla Szász: Our house) and Labor (Zsófia Keresztes: Holyland). She also organized exhibitions in the region, for example at Tabacka Gallery (Kosice) and IGLOO Gallery (Jihlava). In 2014-15 she was part of the organizing team of OFF-Biennale Budapest and since 2016 she is the member of the research group Open Museum, which focuses on participatory and collaborative practices in museums. In Spring 2016 she spent one month in Rennes with the GENERATOR residency program. She contributes critiques and reviews to several online and offline magazines, like Artportal.hu and Balkon. She lives and works in Budapest.
Three shots at why I draw the way I draw
by curator Liviana Dan
2017
1. Alex Mirutziu, performanta si pasajele performative transforma desenul si gravura firesc la tine. La ce te raportezi cu precadere?
Eu atac desenul prin irezolutie. Astfel destabilizez 'ce este' — asa cum mi se proiecteaza acum si aici, favorizand contingenta a 'ce este'. Cand desenez vreau sa rezolv obiectul prin 'ezitari', prin proximitate, nu folosesc analiza clasicismului care determina o intelegere patriarhala a liniei. Nu am constiinta inceputului, nici atunci cand performez nici cand desenez. Insa eu nu pot sta pe linie, aproape ca nici nu le vad atunci cand lucrez.
2. Cum ai ajuns la desenul clasic in structura, dar cu narativitate romantica?
Cred ca abordarea mea conceptuala cat si referintele istorice din desenul meu fac parte dintr-o tesatura mai mult performativa sau fenomenologica decat sa spunem de reprezentare. Problema mea e cu rationalizarea formei, cu un soi de redare a naturii dinauntrul ei, nu din afara ei — iradiat de ea. Romantismul asta a facut. A introdus o sudare de tot si de toate a individului. Cum sa desenezi in detasare?
3. Cum au functionat desenele tale si lucrarile video in Gradina Imposibila? A existat vreo distanta?
Pentru ca m-ai asezat in forme limpezi in propria mea natura, cred ca asa se poate merge inainte. Tu m-ai invatat cum sa navighez dincolo de estetic, in transee filosofice. Transee. Problema filosofica din Gradina Imposibila e cea care ma instiga dar respir in si prin natura pe care tu o intelegi foarte bine ca pe "locul cel mai prielnic in care te poti gandi la altceva."
Eugenio Viola
This text was written on the occasion of "THIS, LIKE...", solo show at Marie-Maure Fleisch Gallery, Brussels
Sept 8 - Oct 21, 2017
In his work, the eclectic artist Alex Mirutziu (Sibiu, 1981), explores two parallel trajectories with ease: performance, a discipline he has practiced for over fifteen years, and another more related to "the reasons for doing". The former, presented "live" and through post-production with photography and video, often takes on a provocative and protesting vein, sometimes evoking autobiographical references; other times it underlines the raison d'être of fundamental or existential differences. This approach has led many critics over the past years to define Mirutziu as the enfant terrible of Romanian art. His second artistic trajectory starts with drawings to which he attributes a gnoseological value, denoted by a (poorly-concealed) manual dexterity which is irremediably unveiled in his sculptures, often representing a fragmentary aesthetic. The progressive comparison of these two lines of artistic research reveals an interesting intrinsic divergence: although his performances embody an expressive vividness and plastic vocabulary, these characteristics are seemingly contrasted by a metaphorically investigative approach which could be defined as a renewed classicality.
Both of these veins are seen in This, Like…, a complex project entirely dedicated to the tormented figure of Iris Murdoch (1919 – 1999), the prolific British author and philosopher, destined to live out her last years with Alzheimer's disease. The exhibition opens with About the word experience, 2017, a "performative" drawing in which Mirutziu's edgy pen creates 92 separate frames of a conversation filmed in 1984 between Murdoch and the stateless philosopher Jiddu Krishnamurti (1895 – 1986). Indeed, the title of the exhibition also subtly alludes to mental distress and moments of confusion to which persons like the British philosopher have to face, unable to associate words and concepts correctly. The work Dignity to the Unsaid, 2017 – a performance first shown at the MNAC in Bucharest – also refers to this same phenomenon. Presented in the form of a harrowing short feature film, it gives a metaphorical, hypertextual insight into the semantic relationship between the said and the unsaid. In the exhibition-specific sculptures, Mirutziu's aesthetic stratagem favours the evocative property of the object. He weaves a visual score of protective signs connected with experience, creating a somewhat hermetic resonance in which the object's real existence counts less that the evidence of its existence; the phenomenon or its essence manifested through the conscience of its creator who undertakes actions in creating the work. This is the approach the artist has adopted to go beyond the epidermis of the physical object: a stratagem to reiterate his poetics and his stylistic bent in which the subversive capacity of art to reveal and present new alternatives, or new attitudes and new ways of thinking is innate, thus conferring voice and dignity to the unsaid or the unexpressed.
Suspended between abstraction and representation, the sculptures in the series This, Like… tell an anguishing tale in which the existential-artistic experience of Iris Murdoch becomes an occasion or pretext for the Romanian artist to construct a story that deals with the recurrent and somewhat disturbing themes of his creative research: otherness, marginalisation, and exclusion. Thus, we have a trajectory which pays homage to the artist in the very instant in which affection and the fleeting form restore the macerated traces of the intellect. His is a continual struggle beyond the concrete reality of the material, blurring the frontiers between objectivity and subjectivity, between realistic and sentimental representation until they become labile; a tiring process of subtraction leading to the progressive "in-definition" of the features of a woman destined to progressive dementia. Thus, Mirutziu's work is agonizingly impacting, animated by a system of unstable equilibria of diverse elements which create disturbing connections and short circuits between the familiar and the unknown, the logical and the absurd, eternity and intransience, illusion and reality.
Eugenio Viola
Eugenio Viola, PhD is an Italian Curator and Art Critic. Since 2009 he has held curatorial positions at Madre, the Contemporary Art Museum of Naples. From 2013, as Curator at Large, he has been responsible for the research and development of the museum's collection and co-curated the first Italian large-scale exhibitions of Boris Mikhailov and Francis Alys; a complex Daniel Buren project, conceived in two parts and across two years; and the largest exhibitions ever devoted to the Italian artists Vettor Pisani and Giulia Piscitelli.
From 2009 to 2012, he was the Curator of the museum's Project Room. During this time he was responsible for presenting "Transit" Project (2009 – 2011), a series of exhibitions and residencies in partnership with institutions from the Middle East as well as an annual performance festival named Corpus. Art in Action (2009-2012).
Eugenio has also worked as a guest curator for several Italian and International institutions, curating amongst others solo exhibitions devoted to: Regina José Galindo (Frankfurter Kunstverein, Germany, 2016); Karol Radziszewski (CoCA – Centre of Contemporary Art Znaki Czasu, Torun, Poland, 2014); Mark Raidpere (EKKM – The Contemporary Art Museum of Tallinn, Estonia, 2013); Marina Abramović (PAC – Contemporary Art Pavilion, Milan, Italy, 2012); Francesco Jodice (MSU – The Museum of Contemporary Art, Zagreb, Croatia, 2011); and ORLAN (MAMC – Musée d'art moderne et contemporain, Saint Etienne, France, 2007). In 2015 he curated the Estonian Pavilion at the 56th Venice Biennale.
He is a scholar in theories and practices related to performance and Body Art and has published and lectured extensively on these subjects. Apollo art magazine has described Eugenio as "one of the most talented and inspirational young people who are driving forward the art world today".
IDEA art + society #44
"The Right to Opacity"
Diana Marincu
2013
Alex Mirutziu, "Each Thought's an Instant Ruin with a New Disease"
Sabot Gallery, Cluj, 15 November 2013 – 24 January 2014
One of the most widespread and circulated principles of the contemporary world, marked by the phenomenon of globalization and the overrating of a communication based on the diversity and plurality of perspectives, is transparence – the transparence of the relation - ships between people, the transparence of the flux of information, the transparence of the process of globalization, all of them under the sign of a terminology which is way too decrepit. Édouard Glissant, the well-known Caribbean writer and theoretician of post-colonial - ism, further complements the semantic field of the utopia of globalization with an opposite notion, which is essential for the ethics of human relationships: the right to opacity. This term is not synonymous with the right to being different, but signifies instead the limit up to which the Other can be known and his or her acceptance in spite of inaccessible, coded peculiarities.
Alex Mirutziu does not explain, does not represent and does not demonstrate through his works something that, as soon as it reaches the public, would "close" itself within an interpretation. The question that the artist uses as a point of departure is "what happens when the objects, bodies and all things from our surroundings stay silent?" Their language is untranslatable, their background empty and their field of reaction fragmented in a multitude of different temporalities, desynchronized.
By Each Thought's an Instant Ruin with a New Disease, which is his second personal exhibition at Sabot Gallery in Cluj, Alex Mirutziu keeps on resisting to a visual regime based on transparency and certitudes about reality disguised in artworks. He claims the right of objects to withdraw from the invasive gaze of the visitors, in other words, their right to opacity. The concepts supporting this exhibition are "pending works" and "bureaucratic objects". The first has already been tested in quite a few formulae up to now, the most "extreme" being PW#4, a work hidden by the artist in the Swiss Alps and for which he promised a reward of 10,000 euros if somebody finds it and brings it to the Barbara Seiler Gallery. Another "postponed" work, Five Moments of Silence for Pending Work #7, from the exhibition What Is the Reality of Never? (IASPIS, 2012), has been a performance carried out by six people "conducted" by the artist into a few moments of silence dedicated to this work, which has initially been formulated in the guise of a contract with Rüdiger Schöttle Gallery from Munich. The idea of works suspended in an indefinite time or never concretized is not new and marks undoubtedly the creation of all artists. But Mirutziu sees in this postponement of transposing the idea into an object a limit of human perception in covering the conceptual territory of the work and the duration of the process. A "pending" work is always too big for the geographic space in which the artist is located and for the present moment. These "pending works" test not only the perception of the public about an absent thing, but also the mode of functioning of the relationship between work and art market and between the artist and the gallery owner. The validation mechanism of an artwork goes through a short-circuit and is replaced with the complicity between public and artist in order to form a fissure in the very roots of art. The concern for the aesthetic form is substituted with a network of ideas that do not exhaust reality, but accept its irreducible and often hazy core, according to the theories of object-centered philosophy, whose partisans (such as Bruno Latour or Graham Harman) are among the documentation sources of the artist.
The performance that took place at the end of the exhibition from Sabot, Scotopolitic Objects #2 [for one performer], triggered precisely the situation mentioned by Graham Harman in his writings, namely the one in which the object proves itself to be immune to the attempts at deciphering it. The scenario of the performance has been thought out in such a way as too cover both the empty space of the exhibition and every corporeal presence. The artist used five big ceramic pots placed one next to the other, in which he has placed five microphones in order to create an unpredictable sound platform that included all sounds from the space of the gallery and all movements of the visitors. These improvised sound tools reacted and changed their vibrations or the volume of the sound according to the gestures of the artist (each move of his palms have been captured by the microphone) or to the distance between the objects. The failure of the public in clarifying the sonic and visual situation placed the artist in the posture of continuing his action, improvising and reactivating the potential of objects otherwise "calcified", as he calls them.
Using all possible media, Alex Mirutziu outmaneuvers our perceptual habits and brings the exhibition in a new zone of tension between the sensorial qualities of the objects and their mental representation. In 2009, Mirutziu has formed an artistic collective with one of his alter egos – the artist at the age of 29 – and all works made in this way are based on the body as a primary tool. Within the exhibition, The Artist as Himself at 29 is an example of a paradoxical object which migrates from medium to medium. After the process of fabricating the physical mask of the artist, this mask has become a drawing tool in a performance and, simultaneously, an extension of his own body, one of the conditions of making this drawing being the permanent contact between the mask, the hand and the paper. Finally, the mask-object has been exhibited together with a video that documented the performance and has been placed next to the final drawing as a radio - gram of the whole process. Following the same subtle link between sculpture and the ephemeral performative gestures among which the artist finds many affinities, even though they seem incompatible at first sight, two photos – Weight of Sleep as Temporary Sculpture Present in Flesh of Face – try to capture the moment of waking up in which the body is the raw material for an ephemeral sculpture. The traces on the face of the artist keep the memory of abstract forms imprinted on it, their source being quite enigmatic precisely because everything has taken place during sleep.
"The bureaucratic object", another important concept for the exhibition, is a conglomerate of oppositions to which the artist leaves open a way to reciprocally reconcile or annihilate each other. The language of the bureaucratic object is political par excellence. Each word through which we explain reality bears within itself an intentionality and a power of manipulation highlighted by the poetry of post-language. One of the works in the exhibition is a "prepared" poem that generates two extra works – a video and a series of sculpture-objects. The visual allure of a text is what pushes the artist to research and renegotiate the identity of each word. Starting from the poem Politics by Graham Foust, Mirutziu cuts out and inserts certain passages from Our Circumlocution of W. H. Auden, reflecting upon the time of pronouncing a text, the pauses between the verses and the spontaneous alliances between words. The tridimensional objects extracted from these imbrications, Architecture for Page Turn, coincide as form with the empty spaces between the lines that determine the entire architecture of a page of text. The utility of these small lead objects is to keep open the page of a book in different angles, covering more or less the words and contributing to a certain kind of reading. Each glance at a text, even when the latter is not complete, inevitably determines the spontaneous selection of a set of words with which our mind creates new semantic contexts. Each Thought's an Instant Ruin with a New Disease passes finely over the invisible membrane that coats the idea, the object and the artistic process in order to create a new conceptual relationship between human and non-human, solitude and togetherness, artist and viewers, marked by opacity and the lack of a common language. The theories about postmodern networks of objects (called "plasma" by Latour) always ignore the irreducible properties of individual elements, while privileging their relations. Instead, Alex Mirutziu interrupts the circuit and awaits to see what comes out from notions such as opacity, failure, impossibility, closing and postponement.
"The rhetoric of silence", the phrase by which in her "The Aesthetics of Silence"(1) Susan Sontag names the resistance strategy of art before the imposture or erroneous interpretation, can be viewed as a "zero degree" at which the intentionality of the artist or the aesthetic frame disappear, leaving a void right in the middle of the stage and provoking the spectators to rethink their own position towards art; in this "aesthetics" silence is nothing but an attempt at liberation from the spectator, client, evaluator or any other type of constraints, a decision that brings with itself also its other side – the dialectics of a symmetric exchange, in which one could answer to the void with the substance of ideas, to silence with the eloquence of the demonstration, etc. Sontag refers to André Breton's concept of "pleine marge" in order to explain the tendency of art to isolate itself in a (spatially and mentally) peripheric zone, the central void pushing to the margins the true, authentic experience. The result – new ways in listening, viewing and understanding art – is a conceptual and sensorial exercise of transgressing the eternal mediation task of art and of denouncing the "bureaucracy" signaled by Alex Mirutziu. This is why dominant terms in the contemporary discourse about art, such as "to exhibit", "to illustrate", "to discover" ,"to share", "to translate", "to demonstrate"(2) should be removed at least for a split second from the art vocabulary, just as in a workshop of "potential literature" (starting from the OULIPO(3) experiments) in order to create new "constraints" and "liberties".
Translated by Alexandru Polgár
DIANA MARINCU (b. 1986) is a Ph.D. candidate at the National University of Art in Bucharest, Art History and Theory Department, with a research focusing on the curatorial narratives/discourses built in relation with political and geographical criteria in the last twenty years of exhibition making. She writes art reviews in Arta, Observator cultural, Dilema veche, Poesis International, and other publications.
Notes
1. Susan Sontag, "The Aesthetics of Silence", in Styles of Radical Will, Picador
US, 2002.
2. Observation borrowed from the essay "Opacity" by Ulrich Loock, published
in Frieze Magazine, no. 7, winter 2012 and read at http://friezemagazin.de/archiv/features/opazitaet/
"Imagining the world in terms of opacity as a chaotically resonating whole appears as an unparalleled challenge to current notions of the global. In this light, it was striking to see the terms used in the exhibition
catalogue for The Global Contemporary (2011) at the ZKM in Karlsruhe to describe the artistic aims of individual works in the show: examine, uncover, unmask, expose, reveal, reflect, illustrate, comment
– a language of transparency that translated the works themselves, whichever part of the world they came from, into a dominant aesthetic of allegory."
3. Ouvroir de littérature potentielle, a group for experimental literary creation formed in the 1960s by writer Raymond Queneau and mathematician François Le Lionnais, which considers voluntary formal constraints
to be effective in the stimulation of creativity and imagination. This group functions today as well and, periodically, they propose new "constraints" for an "anti-hazard" practice.
Art Cities of the Future. 21st Century Avant-Gardes
Jane Neal
Phaidon Press, 2013
p. 78—79
Alex Mirutziu is Romania's leading young performance artist. His arresting practice hovers at the limits of self-exploration, experimentation and extreme personal discomfort. There is a retro quality to his work; its dark, ironic humour and masochistic edge evokes the oeuvre of Viennese Actionist Arnulf Rainer or seminal performance artist Vito Acconci. What distinguishes Mirutziu is his focus on 'when' rather than 'what'. He is fascinated by the chronicling of time and how it determines the significance of events. This is best expressed in the series Pending Works, which Mirutziu originated in 2009. But what must be understood is that each work is as much about its promise as its occurrence. For Pending Work #4 (2011-12), for example, a block of clay was buried on a mountain in Uetliberg, above Zurich. At the site, Mirutziu recorded data such as radiation and humidity and installed a CCTV camera, which is later controlled from his studio thousands of miles away. In one sense the work could be considered dormant and invisible, but it also functions as a kind of satellite, collecting information about itself and its surroundings, which are then broadcast to the artist. These covert behaviors and distancing tactics call into question whether Pending Work #4 is private act or public work.
The politics of performance has been a constant in his practice. Mirutziu can turn from using explicit homoerotic imagery in a performance context to using video to depict the Srebrenica Genocide (Moment of Silence 2011). His biography states, 'Mirutziu is the only artist to have made a group with a hyper-object (namely with himself at twenty-nine) and exhibit as a collective.' That is, he represents his twenty-nine-year-old self time and again, as if freezing this version of himself, by using photographs and videos shot during his twenty-ninth year. The relationship that forms between the artist in the instantaneous present and the artist at twenty-nine forms a rhetoric, though an unusual one. Unsurprisingly, Mirutziu's striking individualism and chameleon-like approach have gained him increasing visibility on the world stage.
Mirutziu was featured in 'Ars Homo Erotica', curated by Pawel Leskowicz at Warsaw's National Museum, in 2010. In 2012 he participated in 'European Travellers: Art from Cluj Today', curated by Judit Angel at Kunsthalle Budapest. One year previous, Rudiger Schottle invited Mirutziu to make a solo exhibition comprised of Pending Works and the 2011 work entitled Scotopolitic Object . The later features an attractively decorated vase wired up to a speaker and projector. As the viewers are drawn to the object of their gaze, it in turn is affected by their presence; if they touch it they disturb the image projected from its interior and change the amplified sound. It is an acutely observed demonstration of the strained relationship between the love of looking and the obsessive invasion of the object's space.
Mirutziu's insightfulness enables him to take what he needs from a given situation. This in no way detracts from the consistency of his practice; it simply suggests an artist who, independent of his peers, seeks to find ways to work within specific frameworks. During his studies at the University of Art and Design, he was affiliated with the painting department. There he encountered more difficulty than support, but the experience encouraged him to work independently. Though he found his studies frustrating, he remembers productive exchanges with photographer and video artist Grit Hachmeister, and he cites poet Angela Marinescu and filmmaker Lucian Pintilie (known as the creator of 'corrosive cinema') as influences. Mirutziu's difficult, elegant work suggests he has in fact taken a cue from Marinescu, who has said, 'Everything will be poetry if you are good at saying it.'
European Travellers — Art from Cluj Today
Judit Angel
/excerpt
p. 97
Alex Mirutziu's performance art focuses on (his own) body, which is the subject of cognition and confrontation and also serves as a means of communication. In his early works — some of which are on display here— Mirutziu's body problematics are based on sexual identity and the related individual and social conflicts, in which the body is formulated as a political tool (Tears are Precious, Heaven Knows I Feel Miserable Now, Sock Face).
Jane Neal
Cluj International
p. 81
Alex Mirutziu is the most avant-garde of Sabot's artists, participating in 2007 in English director John Britton's experimental master class with seven other heterogeneous performers. Subsequently he toured England with his performative social - commentary Leave Gordon Brown Alone. Mirutziu received international recognition in Madrid and Paris at the Optica Video Art Festival, where he was awarded ' best independent artist', as well as presenting two solo projects (2010 and 2011) at Rudiger Schottle, Munich. His present collective exhibitions include The Power Plant in Toronto, the National Museum in Warsaw, and Spazio Vault in Prato.
Rearview Mirror
New Art from Central & Eastern Europe
Christopher Eamon
The Power Plant, 2011
Art Gallery of Alberta, 2012
Fellow Romanian artist Alex Mirutziu's practice is mainly performance based and photographic. His video Pop, included in this exhibition, is perhaps exceptional of his work in the sense that he appears in it only marginally; his hand turns the pages of the British fashion magazine Pop.
Slowly, page after page, a narrative of imagery emerges, a found narrative that is at once appropriation and meditation. Most of Mirutziu's work is based on gender and gender transformation. In many ways, as a kind of body artist, he is the closest of his generation to one of the lone heroes of the Romanian art scene, the conceptual and body artist of the 1970s Ion Grigorescu. While Grigorescu is almost a lone figure in Romanian history, his work is still very much of a piece with international task-based, performance and body art. Mirutziu does not in any way ape this 1970s form. Rather, he "queers" it in an altogether different way.
You play the most varied disciplines: from photography to performance and installations or conceptual writing. Do you think it is important that, today, the young artist is versatile?
Of course there are no rules and standards regarding the versatility of one artist, but I generally think that freeing myself of a specific medium, in other words remaining free, suits best my practice. I was never afraid of approaching territories that can articulate my metier in a valid way, not to say of the constant searching for the best way to say it. Therefore it's a matter of what one questions conceptually speaking. My work has no other option being anchored in a processual research; it offers no escape but to mediate different practices, that I consider fit for one proposal or the other. But, never forget that sometimes definitions like performance or installation prove to be weak and unsatisfactory vis-à-vis a conceptual discourse.
You've researched and worked on projects where looking connections between artistic expression and the nature of the human body, almost as if an art-biological question. Why are you interested in the connection between these areas?
It's true that my performance based work looks within these fields. As it is expected, I am after all interested in expression. There is this notion that one thinks with his brain and express what he thinks with his body, so this corporeal machine has many implications when thrown into art. What interests me more is the capacity of an action to put a mass in movement, to silence, or balance fields of power. What are the conditions that an idea has to satisfy to become physically potent?
Do you consider yourself a scientist-artist?
I wouldn't call myself like that; still science as I see it makes a brilliant capital in my work. There are many things to be discussed here, especially because I consider art as thinking, one that make use of concepts like time, action for instance which have been massively debated and documented by philosophers and scientists.
In your work exhibition is a clear gesture obsession to intervention and modeling facial expression. Why?
You may say that in regards to some previous works that are centered on the portrait. It is a different issue that distance itself, for example from Arnulf Rainer's compulsive obsession with the expressive body. My intention back then was not to put forward a psychotic self, or to over express it; but to indicate a sort of masochistic desire to disappear, to manipulate the fragility of the skin, to show its estrangement and disillusion with both the inside and the outside. This desire dates a long way back, and I think it is one of the pillars that holds the scaffold of what my work is all about.
What is for you "body"?
Most importantly the body is a powerful medium, maybe the most difficult to work with. But nevertheless is a medium for communication. Having said that, I truly take it as a social construct that needs mediation. It is not a choice, but a fact and therefore it has language embedded in its molecules. It is therefore inescapably a mass that needs to be negotiated, every millisecond.
How important would you consider the body to express themselves artistically?
The body never looses its flagrant expression and outspoken desire to manipulate and be manipulated.
In your work is appreciated in some connection with performing work by artists such as Marina Abramovic or Anika Larsson. What artists, genres or artistic tendencies you feel more sympathetic?
It's always hard to pinpoint references that mark my work. Writing may be a strong and constant marker, therefore it's more a problematic of language than of let's say fine art. Nevertheless I feel close to some approaches in art but not necessarily to specific artists, even if I made sometimes direct reference to W. H. Auden or Mickey Rourke.
Nudity and naked bodies are plentiful in your work. To what extent you are interested in erotic art to incorporate into your work?
I think the problem of eroticism in my work is a false problem. If there is an order in the layers of my works nakedness resides at the periphery. I would explain it as a nuance.
Do you feel sympathetic to provocative performers and artists who use sex as a weapon and fetish artists such as Bruce LaBruce, Larry Clark, Jonathan Meese and Joan Morey?
Over the years I have meet and exhibited with some artists mentioned above, but I wouldn't say I feel sympathetic towards their practice.
Do you consider yourself an artist provocateur?
Better said, an artist that likes being provoked by reality.
In your recent exhibition "Critique on How Temples Move Faster Than Their Shadows" was appreciated a taste for chaos and disorder. What is it that strikes you about this?
That solo show came painstakingly slow and quick at the same time. Why? Slow, because there were lots of philosophical edges to it, many fractured ideas that stayed with me for some time, and needed a formulation, and quick, because the opportunity to articulate and produce a show came as an ardent deadline. This incredible force to stage a massive event was maybe a clear balance between the two.
Do you plant in the near future to jump into genres such as drama (theater) or cinema or a longer format or still prefer the video installation and performance short to work?
There is always a question of the format and medium as I already pointed in a previous statement, so what I want is to detach from any medium confinements and rebuild them; what matters is to remain free.
Do you consider your work please provide good information sciences such as sociology?
I have studied Theory of Communication and Systems Theory by Jürgen Habermas, Niklas Luhmann, and Humberto Maturana since 2002 and extensivelly introduced them into my projects as well as Alfred Gell's anthropological theory of art and theory among others.
Do you think a conceptual artist like you should educate people with their artistic practices?
I never think of educating people really. Maybe art is not destined to educate or to give answers but to propel the possible and ask.
With what concepts you want people to associate you to see your work?
The public should remember that my work is artificial, culturfactured - a construct, and that it is my construct and should be seen as such with directness and ruff poetics, as art in its form signifies nothing but representation of heterogeneous time.
To what extent a country like Romania influenced your artwork? Maybe that's why you find more shelter in Central Europe?
To be honest Romania has only given me the place of my birth. It's almost impossible to project more besides, and don't even want to. It may seem strange saying it so drastically but it is nevertheless true even if I spend most of the time in it.
Flash Art
Anne Martens
March-April 2011
With the current trends, one can argue whether identity politics in art is now dead. But really all art is rooted in self-identity at its most sublime and political. Alex Mirutziu is queer, Romanian, lives in the UK and employs these personal facts to convey broadest human experiences.
In a half-hour performance that opened his recent Los Angeles exhibition, Mirutziu wovea tale of personal experiene with universal resonance. Through projection, music, sound effects and acting he conveyed the anguish of a lost relationship. With grief, time can be perceived as both eternal and specific; a time warp in which the individual suffers in isolation.
This sensibility was imaginatively conveyed through the lens of a specific event: last year's resignation speech by Gordon Brown. In an apartment at night, the protagonist lies and writhes while internalizing the event's telecast.
He even identifies with the politician's wife -- wearing a similar dress and high-heeled pumps - then rejects her supportive role. Later, naked exept for the shoes, he lip-syncs to a song's heart wrenching lyrics. This humor, strong narrative devices and a minimalist touch took the performance to a provocative level.
For the remainder of the exhibition, the gallery was rearranged to include a video of the performance plus drawings, photographs, sculptures and performance objects. Of these, my favorite a pair of cage -like platform shoes welded together to force its wearer into a contorted position. Two self portraits with a sadomasochistic bent, the artist wearing face masks made of medical socks, straps and ball gags, while visually powerful left less to the imagination. But in the context of the artist's body of work, they support a theme: everyone - whether queer, straight, male or female - experiences the coexistence of pleasure and pain in relationships, if not life.
Through a kind of perverse logic, that Molotov cocktail of lust, longing and loneliness may itself be a norm within the human condition.
Monopol Magazine
Barbara Gartner
April 2010
What is the body itself for you? Using your body as extensively as you do in your work, do you regard yourself being part of the long list of tradition of performance artists using (and to some point also torturing) their body?
First and foremost I treat my body as a vessel, as a medium, and then as a space of resistance. I used to name it revolution wise instrument embedded with political meaning and transversal power, transversal meaning any force physical or ideological, friendly or antagonistic that inspires emotional conceptual and or material deviations from the established norms.
First and foremost I treat my body as a vessel, as a medium, and then as a space of resistance. I used to name it revolution wise instrument embedded with political meaning and transversal power, transversal meaning any force physical or ideological, friendly or antagonistic that inspires emotional conceptual and or material deviations from the established norms.
In this respect I consider a dense and risky business to take my own body as the main place of confrontation and communication with my own memory and suffering and most of all to articulate this in a conceptual way and so forth; therefore any historical contextualization that deals with the use of the body worth's all my attention. I was struck by works of Pierre Molinier, Romeo Castellucci, Neil Jordan, where I've immersed myself attracted by a dense use of loneliness especially in Molinier's case that I have found very rich and inspirational.
How close is the "figure Alex Mirutziu" that one faces in your performances, photos, installations to the "real" Alex Mirutziu? Are those narratives in "There is no fit memorial for our love" or "Unforgotten if unpunished" true?
My work always indexed my figure as you call it, and its been corruptible in this sense, as my work is a lot about coming back, about introspection on one hand and about a return to something that had somehow broke me... so there is this discussion of fitting, positioning and a sort of carrying interiorities within me and within the work itself. It has to do with a sort of movement first experienced and consumed by me and then produced; in this respect my work touches on the notion of formulation: is my body ornamental (outside the work), or structural (inside the work) or decorative (inside the work), or symbolic (outside the work)?
Therefore the two works that you refer to have to do with these interrogations, so one shall search in the mentality of the work, and in its mental structure rather than in its representation or narrative potentiality. I am interesting in the notion of location of art where it may exist in the mind– but also in its epidemiological place, objects that perform and actively engage with the exterior.
The literalist sensibility with its own kind of agency can only add to the confronting presence of an orthopedic wholeness of the work and demands that the beholder take into account a nexus of relational functions. To a certain degree the work itself refuse the human body being either because the beholder is to close to the object either emotionally or physically - bringing fragility to the understanding these objects are physical of physical acts, therefore imply a need to be perceived in constant process of making, and never isolated from the context.
What is your approach to fashion?
The entity of fashion as a gerund status: fashion - a thing happening now, where the focus is on the emergent, potential ability to signal and set in motion moments during the performance. I am captivated by the performative aspect of runway presentations rather than on fashion as a socio - cultural instrument.
The effect is a humanized approach to a specific artistic protocol...where the established focus is blasted and twisted making the performers mise-en-scène the motor of the whole process.
What is it that strikes you about pictures of models crashing on the runway?
What is striking in these pictures and implicitly in the series of video performances called "Runway spills", is the diffusion of focus away from the garment and onto a situation that disrupts a specific convention (falling on the catwalk); the now of fashion live performance that sometimes corrupts, and contradicts itself, in its redeployment of functions from the existence of an abstract idea to the tangible production.
Can you elaborate a bit on "Unforgotten if unpunished". What does the toy mean to you?
"Unforgotten if unpunished" is a metaphor that speaks for itself. The use of toy cars being smashed by different branded trainers is part of a whole trend on youtube and had even been contextualized in Christian Louboutine's "Barney's trash" double platform slingbacks. I use toy cars from my childhood, and not at all without their own memory. Ripping apart from the outside an object that is hundred times smaller than the real one, acts as a perpetual replacement for the lost object of desire – where the sorrow goes on and on, a perpetual return to a lifeless center.
And on "There is no fit memorial for our love".
In "There is no fit memorial for our love" installation I was interested in the problem of representation ... the objects that make the work itself are generated by storage devices. Each object gathers in itself different assembly of relevant procedures and trigger occasions to differ and dispute. Moving away from my own imagination has brought me to research emergence and interaction as main
constructs irreducible to regular laws and novel. In so doing this work together with the one mentioned above ("Unforgotten if unpunished") emerged from complex systems of production via telecommunication and its permanent or ephemeral means of recording, clandestine digital migration, safe – unsafe algorithms, calculated irrelevance, vari-frequencies per second, video scanning, luminance and color. What initially interested me was to use my laptop as another performer that mediates the void between possible collective work, implicating other possible web users.
The work is not staged, managed, or dramatized, liberated by anonymity being anchored in process rather than in the outcome, exploiting the existing given moment. I've been paying attention to the element of distortion, internal and external coming from the medium itself.
Is being Queer still as a matter of social political rebellion for you? Can you elaborate a bit on that?
As a Romanian artist I try not to conceptualize restrictions, but act upon them; I've wrote Romanian because I grew up in Romania where being gay was hard to be comprehended by the majority and as a consequence misjudged and still is. In this sociopolitical environment being outside the bounds of normal society has its price, but today this manifestation is much more a part of research as it was while at university.
Very often my readings led to queer literature and many times I would have liked to relate to an openly gay Romanian artist being either writer or of any other discipline. The symptoms of an uneducated Romanian society makes its mark now more than ever among decision making entourages and in these issues the general public discourse is always insulting and ludicrous.
Would you agree that the condition of being queer is an intrinsic part of your art making? If yes has it always been like that?
I would say the same, if queer implies a sort of attitude or approach, resistant to monolithic definitions, resistant to a single appellation – and to representation. In my recent work, I try to operate within notions that emerge and coagulate in the mind and perform beyond the spectators' understanding. Queer entails these sub notions that causes the possibility for art to explode outward and more than before my work furthers these into language.
Why did you chose Oscar Wilde's "The Ballad of Reading Gaol" to name your exhibition in Munich?
"Some kill their love when they are young", the title of my newest exhibition, is one that is dear to me as it adheres to a specific period in my life. I have found it to be poignant and urgent, and the selection of works from the Munich exhibition needed a perfect fit. Oscar Wilde's poems are very important to me and especially the "Ballad of Reading Gaol", written to denounce the solitude and harsh life from prison. Two years ago, I've been part of a GayWise festival that had its opening evening at the House of Commons, London - in the company of esteemed British politicians like David Lammy and Trevor Philips - the place where Wilde was convicted of gross indecency. It wasn't a simple coincidence that after more than one hundred years I was able to celebrate freedom of expression in the same place it was supposedly banned 1895, and to some extent I empathize with his suffering and come back to it often.
How important is growing up in Romania for your work?
Romania provides me with a lamentable and frigid tradition and not with argumentative ideologies. Many times I have felt alienated and ideological estranged, where issues that I thought were far gone like collective schizophrenia and uttered stupidity, lack of social participation and pragmatism were prime-time trophies.
Romania had lost me irremediably a while back with its stench of dead carcass and lack of reputation. In this geography of exclusion represented by my city and as a whole by Romania I can only engage with myself forever questioning "What I am doing here? And is there any hope?" It is the people who live here, who are lost and disillusioned. Romania is a country that cannot deliver me out of my sadness. Perhaps it is a pathological anger over Romania that can only be born out of running. And running has become modus vivendi. Running of being trapped; running of lack of instruments; and lack of air to breath.
ArtNet
"Pain Ballet and Historical Passion"
Evelyn Pschak
March 3, 2010
The gallery owner is beside himself with joy. He claims to have made "a discovery in No Man's Land". Even Rüdiger Schöttle's eyes glow with euphoria from behind his horn-rimmed glasses, as he recalls setting out for the Transylvanian Cluj-Napoca last autumn, without having put his hopes up too high. He was in fact heading for the mothballed brush manufacturing plant Perom that today hosts art galleries, among which the Sabot Gallery. The name refers to a program that is meant to "sabotage the fundamental segregation between E- and U-culture" - as the founders put it. Thus, discoveries may be made even in a highly capitalized art business. As the world agonizes over crises and cries about prices, treasures are dug out. Schöttle on his way to the terra incognita. Now as you stand in front of the Discovered, it is presumably difficult to ignore him, even though the appearance of Alex Mirutziu – born in 1981 in Sibiu – is not what we would call monumental. His slimness is outweighed by the zooming focus on the aestheticized ego, on self-experienced agony of love, on his sexual orientation that is no longer homosexual but deliberately queer, on his urge for the fashionable and the caricaturesquely inflated glamour. This draws an almost omnipresent attention to the Discovered. In 2010, Mirutziu shall be represented on the satellite art fair Independent at the same time as the Armory Show in New York; he may be seen at the art biennial in Bucharest and has penetrated the shooting star lists of popular magazines. At the February oppening – his first in Germany – Mirutziu is told to have worn a head contraption that enabled him to mince through the audience with a high-heeled pump in his mouth, a fur coat casually slung over his shoulders, posing, nudging people.
"The audience went completely silent", says the gallery assistant with an unwaning enthusiasm. The fur coat is still lying on the gallery floor – as if it had just dropped off the shoulders – reminding of Sacher-Masochs famous novel "Venus in Furs" (1870) which inspired the medical doctor Richard von Krafft-Ebing to find the concept of masochism. Anyway: the cross-references. At a first sight (at least at this small exhibition on the gallery's ground floor) you're tempted to tag Mirutziu's art as too deliberately flamboyant, too close to the excesses and stencils of Andy Warhol and his Factory. A second intake though reveals the desperately manic, the subtle line between self-iconization and self-destruction,
the critical reflexiveness behind the shrill gestures. You may grasp the inscrutable behind the apparent shine more easily if you are prepared for the encounter with Mirutziu's art – perhaps through his text "Hot Mess. Contemplating the body at war with itself", prefaced by a quote from Rilke's "Duino Elegies": "For beauty is nothing but the beginning of terror". And Rilke is not the last in line. Mirutziu's fundamental belief is infused just as much by Vilém Flusser's contemplations on the "self" and the "mask" as it is by the sociological theories of Niklas Luhman or by Descartes' questioning the possibility of a positive balance of pain incurred: "For what can be more intimate or internal than pain?" Such is the theory that Mirutziu bases the fact on: "Pain makes us not only human, but real creatures of the world, it gives us a meaning". Pain is allotted a special role in his art: be it in his acrylic painting "Painting # 2 for bank vault" (2009) resembling a Pietà and portraying his boyfriend, or in the light box Sock Face (2010), rendering the artist himself – a shirted, severely combed snoot – but for the crumpled sock in his mouth.
A knob reminding us that before 1989, neither the artist nor his art would have been safe in Romania. Homosexuality was just as undesirable as western consumerism. However, status symbols don't seem to arrest Mirutziu's interest anymore – an iPod belonging to an ex-boyfriend has been retooled to art: Unforgotten if unpunished (2009). The gadget now displays a video with Mirutziu trampling down a small plastic car. But the destructive snorting of the painful memory does not swallow this action which is rather the evidence of the balletesque, body-controlled ability of the artist. Suffered pain may translate as bitterness.
Or catharsis.
"Opening of Paintbrushes Factory"
Bogdan Iacob
February 2, 2010
(exerpt)
Sabot Gallery opened its exhibition programme with a show of Alex Mirutiu, namely Manifest of Flaw. The exhibition confirmed Mirutiu's ability of intelligently deploying a variety of artistic media in order to circumscribe a conceptual proposal: video, photography, drawing and sculpture were the means used to build up Manifest of Flaw. It also showed a sensitive and genuinely reflexive artist at work, one that can relevantly address issues such as queer status in contemporary social perception, the politics of the body or the abyss of sheer feeling and suffering.
The flaw is aptly the main concept to underline his works. Almost all of them retain an experimental quality which itself constitutes a manifest against the fixity of the standard, against society's claim to define and impose legitimate behaviour and levelling normality. At the core of this experimentation lies the body. As in our social life precisely, in Mirutiu's art the body, or, better said, his body as epitome of the body, is functioning at the same time as object of scrutiny, as tool of expressivity and as symbolic (with reference both to the social and the psychological realm) battlefield. What is recurrent in the works exhibited at Sabot is that this body is always under pressure, under siege, it is squeezed and somewhat victimized.
Thus, in the photograph titled Heaven knows I feel miserable right now, this (beautiful) victim is placed in a spatial surrounding equally defined by the so bourgeois look of the props and the slightly perverse baroque quality of lighting and chromatic. The piece of sculpture in the show presents a distorted, yet pristine white body lying on the floor as if it were a precious, yet paradoxically disposable item. The drawings reveal it in all its frailty, taking the form of trembling, somehow feverish lines. In regard to these, one is to acknowledge that the added lines of the textual insertions in the works do not add anything significant to the meaning of the work, but rather tend to flatten their peculiar and charming pathos by artificially overcharging it. Finally, the short video called Tears are precious presents us with a sort of a flaubertian self-portrait, with tears slowly flowing on the artist's face, without any other physiognomic indication of feeling being detectable. The work is visually arresting and savvily approaches dialectics of inside – outside, felt – shown or expressed – repressed.
In the case of the drawings, as well as in that of the mentioned video piece, references are almost inevitably generated in the mind of the viewer. This referential slip may carry the spectator towards rather broad cultural and aesthetics paradigms such as conceptual art, queer visual politics and so on, but equally towards much more clearly determined contributions to contemporary art (the graphic works of Tracey Emin or Bas Jan Ader's masterpiece from the early seventies,I'm to sad to tell you, for example).
DE-LIBERATING SEXUALITY
Arandjel Bojanovic
'Manifest of flaw' exhibition and publication / Sabot, 2009
There has been a time when people from pre-transitional Romania tried to reach the television signal from across the borders of their country, i.e. from Yugoslavia who happened to be the most consumerist, Western-like society of the so called Communist Bloc. For the people this underground access to the broadcasting space was the only window to a mediascape radically different from the one they used to enjoy. According to a story, the content many people tended to consume the most had been of pornographic provenience. It is a kind of oral history report that has been in circulation ever since. Usually this was taken to be an anecdote, a simple straightforward yet heroic story of the unfulfilled desire finding its ways to the satisfaction. Alex Mirutziu, however, is aware of the fact that sexuality and its popular elaboration in pornography has traditionally been the entrance to consumer society. He is working within that consumer society that presented itself at the time as a renaissance of Romanian society. The question constantly being asked by the author is: what does it mean to be a consumer of sexuality? What is being offered as an answer goes from political readings to relentless physicality.
This question at its basic is concerned with anthropology of consumption. The author threats it in respect to the analysis of sexual discourses in general. Discourse is understood in Foucauldian terms as any language, text, spoken word, theory or practice that structures some domain of human life. The author goes about doing the inquiry through the medium of photography. Haven knows I feel miserable now and Self portrait with a hood on are openly reminiscent of the works of Robert Mapplethorpe who is known for his engagement in the so-called cultural war during the 70's and 80's that was fought for sexual emancipation, gay and black liberation as well as other progressive causes. His ultra-aestheticized photography of BD/SM subculture found the way to galleries and became, as it were, the manifesto of the movement. Alex Mirutziu is aiming at the cultural effects by performing this sexualized identities in his local context where, he believes, they still have a local logic. The move undertaken can be seen as a remake, the practice conscious of presence of historic and cultural amnesia. However, photography he uses is more of a document of appropriation of information about performance conducted in theatricality of private space, than an object made for aesthetic contemplation, and as such is being installed before the viewer. Most of the time the 'art' is invisible, hidden behind more urgent need to explore the role sexual discourses play in our lives. What is underscored is the rhetorical space of the bedroom which is out of the reach of biopolitical technology of the polls. This works are presentation of site-specific performance art, the exploration of space of sexuality consumption in solitude.
At the same time, the author's pop-cultural erudition comes to the fore in the practice of designation of his experiments within the phenomenon of art. Everyday objects, utilitarian objects such as chairs, spoons, cars, etc. don't have proper names. Art objects necessarily do, even when they are of the same kind as former. Haven knows I feel miserable now alludes to the similar title of the song of the The Smiths whose author came out as an asexual. Now both the paradoxical slave identity deprived from its relation to the master ironically solitarily performed in the bedroom and possibility of being asexual stand up in opposition to genitally-dominated, penetration-oriented sexual protocol delivered by mainstream pornography. Yet there is a tension between sado-masochism and asexuality. SM subculture has become the subject of transactions within the mainstream culture whereas asexuality is still underdeveloped/unrecognized politically identity.
Alex Mirutziu in the series of his earlier works deals with the issue of sexuality in such a way questioning/complicating/displacing presuppositions that are (sub)textually present in any sexual discourse whether its being scientific or of some other kind. The artist does it by the way of cultural experiments aiming at production of local-ized excesses. The striking instance of this practice would be the 24 hours donation of sperm performance held at the University of Fine Arts, Cuenca, Spain. Semen has been used with the plethora of metaphoric and narratological meanings. Mainstream pornography represents it as the quintessential feature of sexual intercourse, as the ultimate pleasure. The spill over effect onto the culture is overwhelming. The grand narrative - foreplay, intercourse, cumshot - is unavoidable. Pleasure embodied in sperm tends to present itself as genderless. It allegedly escapes every ideological codification; it does not matter whether a person being the male or female, an anarchist or fascist, a wealthy or poor – when it comes to the sperm as an element of sexual intercourse every identity is irrelevant and therefore redundant. Its ontological hegemony is indisputable. Everything is measured by semen. It is the self-contained absolute telos of the activity in question. It is good in itself. The author decides to conduct the crucial experiment, that is, to test the myth repetitiously masturbating. By means of experiment one is able to reveal only things that are socially constructed yet regulated by some scientific regime and offered as a natural necessities. Therefore, no one is supposed to use the bodily liquids without its natural sphere, that is, private and/or scientific discourses which are heavily protocoled.
The Atrocity exhibition and Boys first time present a viewer with one more tactics of signifying. Striking aesthetic resemblance between saliva and sperm is evident. The very recognition of the matter determines politically different readings. Cumface became a standard of mainstream heterosexual pornography. As yet it is not equally distributed. Male is rarely to never subjected to ejaculate. Sperm on male face is tabooed event in dominant homophobic culture. Its shock value is intensive. This maneuver of producing the indecisive readings is in some respects similar to Duchamp's logic of ready-made manipulation. Duchamp's works not only fly in the face of the institution of art itself, but also show that two aesthetically even physically equivalent object can be of different metaphysical orders at the same time underscoring artworld's aura-giving powers. At the time, Fountain, the urinal, still had the signature that supposed to distinguish it from other products.
When it is disclosed that any matter can instantiate various auratic features it is possible to go a step further. Namely, not only things that surround us and interact with our skin causing sensations in us, but the things that are under the skin, within our body, can also be (re)auraticized. Sensations and meanings of our inner body are not self evident, private and primitive in contrast to our believes in other entities such as money, marriage, university, state, bathtubs... which social subject-dependent nature is demonstrative. Corollary of this way of reasoning is possibility of (re)connection of sexual pleasures to juices other than sperm, sensations other than orgasm - scatology, pissing, fisting, etc. Not in a way of checking off some already existing objectified patterns of perverted identity from the given cultural stock but by hinting toward a possibility of redrawing ontological lines of bodily inside/out.
The author's ongoing effort to understand commodity culture, to see how what we consume defines us, leads him toward the queer paradigm, into such a mode of being which is ultimately resistant to biopolitics, to the processes of comodification/objectification, to the identitarian mode of thinking that revealed itself to be dangerously in tune with the logic of Capital, too claustrophobic and parochial.
Today when transitional Romania lives the extension of the mass media - television, color-magazines, billboards, cinema, newspapers, radio and Internet - the artist grounded in this material and political realities bodily reflects on his ideas of sexuality by assessing the possibility of articulating a view of the sexual beingness which can be translated into effective political strategies. Alex Mirutziu treats the artworld as a terrain of political, anthropological, sexual... experimentation disconnected from any utilitarian considerations imposed by the society. His works are not pleasant and one would feel even threatened by them if not necessarily on the sentient level as an organism, than certainly metaphysically as a self.
Head_Start / Alex Mirutziu & Roxana Ionescu
Liviana Dan
(Text for the opening of Head_Start exhibition at Gallery of Contemporary Art — Brukenthal Museum)
Sibiu — 31 iulie 2002
Arta nu mai este doar o problema de limbaj, arta nu mai este doar o problema de invatare, dar arta ramane o problema de imaginatie. Cat de chic poate fi imaginatia? De ce sufera artistii de o incredibila insecuritate emotionala si financiara? De ce nu accepta formula: Fac expozitii pentru viitor — nu pentru pereti? Este arta un cer absolut si liber? O bucata de lux? Depasind cinismul anilor '90, se poate folosi nonsalanta ca material de lucru?
Mult timp arta a fist blocata. Inghesuita in proiecte periferice. Confuzia a inlocuit aproape totul. Apoi momentul estetic a castigat in sensul lui Habermas. Paradigma a fost schimbata: paradigma vizuala a devenit paradigma acustica. Nu se mai dau raspunsuri. Se pun doar intrebari. Se renunta la tipul de situatie acum ori niciodata. Expozitia iese din noaptea neagra a teoriei. A descoperi, a regasi, a experimenta devin oportunitati radicale. Se preia riscul de a inlocui reprzentarea teoretica cu teoria locului.
O anumita istorie devine baza locului intr-o expozitie. Ruptura plina de radicalitate, ramane omogena; aplica pentru globalitate. Noul spirit depaseste procesul artei. Tot ce tine de arta e supus schimbarii. Strategia este de protectie, de reflexie, de recunoastere a spatiului folosit ca mediu de idei de dezvoltare a unui grup, care sa functioneze ulterior pentru formarea altui grup artistic.
In incubatorul Universitatii de Arta Head_Start a auzit comentarii despre nobletea artei si vulnerabilitatea vietii. Si au fost mai ales nefericiti cu Cezanne. Singuri si-au impus un sistem de auto-aparare de tip Max Beckmann si au invatat sa nu reduca profunzimea si scopul. Pentru Head_Start arta nu este numai forma. Arta inseamna si vulnerabilitate si fragilitate. Imaginile dispar in suprafata: puritate asemenea parfumului, hartie sub hartie, parte ascunsa, care se descompune in altul ideal.
Head_Start are acces la asa numitul sistem textual. Impresie morala contra impresie sensibila.
Head_Start comunica imaginea intr-o larga ambiguitate. Repertoriul artei si elementele de viata / amintiri, imagini, idei compuse pentru eternitate, zgomote, franturi muzicale / sunt inghesuite intr-un continuu proces de disolutie.
Head_Start recunoaste ca oamenii sunt mult mai sofisticati vizual, decat sunt creditati de institutiile care controleaza vizualul. Dar cat de dificile sunt portretele? Cat de dificili sunt oamenii? Portretele lor pot fi anonime, asociate cu vulnerabilitatea, speranta sau anxietatea. Portretele lor pot fi istorice - portrete / obiect al asteptarii, portrete obiect al anticiparii. Asemenea unui stilist, Head_Start, se privesc ca pe o compozitie a tuturor lucrurilor pe care le fac.
Si ce faci, cand florile, culorile, viata, arta, ce faci cand totul este disparitie?
Cand totul este disparitie dezvolti metode de control vizual, cauti ordinea in momentele de confuzie, accepti ca fiecare are dreptul la o iluzie, inveti subtilitatea alegerii. Si te gandesti la intrebari de tipul: Ce sunt norii? si gasesti un raspuns de tipul — o metafora pentru viata interioara si realitatea exterioara. Si iti permiti, si Head_Start imis permite cu adevarat, sa deseneze solitudinea sexuala a norilor de pe cer si solitudinea lingvistica a omului de pe pamant. Eu imi permit doar sa-i percep mereu in aceasta tensiune abstracta.